BRANDING, VISUAL DESIGN, UX/UI, PRINT
Cobi Konadu is a health and wellness practitioner based in Seattle, Washington. I was brought in to do illustrations for her product, The Wellness Toolkit, as well as redesign her website.
THE WELLNESS TOOLKIT ILLUSTRATIONS
Illustration and layout for print for The Wellness Toolkit, a mindfulness program that empowers youth in their health and wellbeing.
In order to get an accurate idea of Cobi's pain points in her practice, I conducted an online guerilla survey on Google Forms to discover how people find a wellness practitioner. Below are selected questions and answers that drove the backbone of the process.
• 

What is important for you to know when choosing a wellness practitioner?
• 

How important is it for you to feel a connection with your practitioner?
• 

If important, what helps facilitate that connection?
• 

When looking to get body work done, is it important to you that your practitioner offers a variety of services?
"It is important for me to know the practitioner's credentials and a little bit about their background. If I know that they've studied and put in a lot of work then I can feel comfortable knowing that my care is in good hands."
"I want to be able to find comfort in knowing that my practitioner not only has a regular practice but is an expert in their field and lives the lifestyle that they teach. If I can know this through social medias like Instagram or Facebook or even through the Internet then I will feel connected."
We often tell ourselves stories to justify or give us reasons why we choose to incorporate a change in our lifestyle. Job stories help explore different contexts as to why someone would want to book an appointment with Cobi. Below are some job stories I created based on answers from the survey that address the

situation

,

motivation

, and the

outcome

.
1. When my

doctor suggests alternative methods for body care

, similarly to my doctor, I'd like to

know about my practitioner's certifications and licenses

, so I

feel comfortable receiving their care

.
2. When I want to

train and prepare for an upcoming marathon

, I

want part of my training to focus on pain relief

, so I can

feel better when I'm running

.
3. When I'm

looking to get away from it all

, I'd like an

option to deepen my practice

, so I can

relax as well as learn how to sustain my life/work balance

.
Using the survey answers as a reference point, I set about analyzing Cobi's current website to understand where drop-off might happen. To the right, I've laid out various pathways from potential clients who want to learn more about Cobi and potentially book an appointment.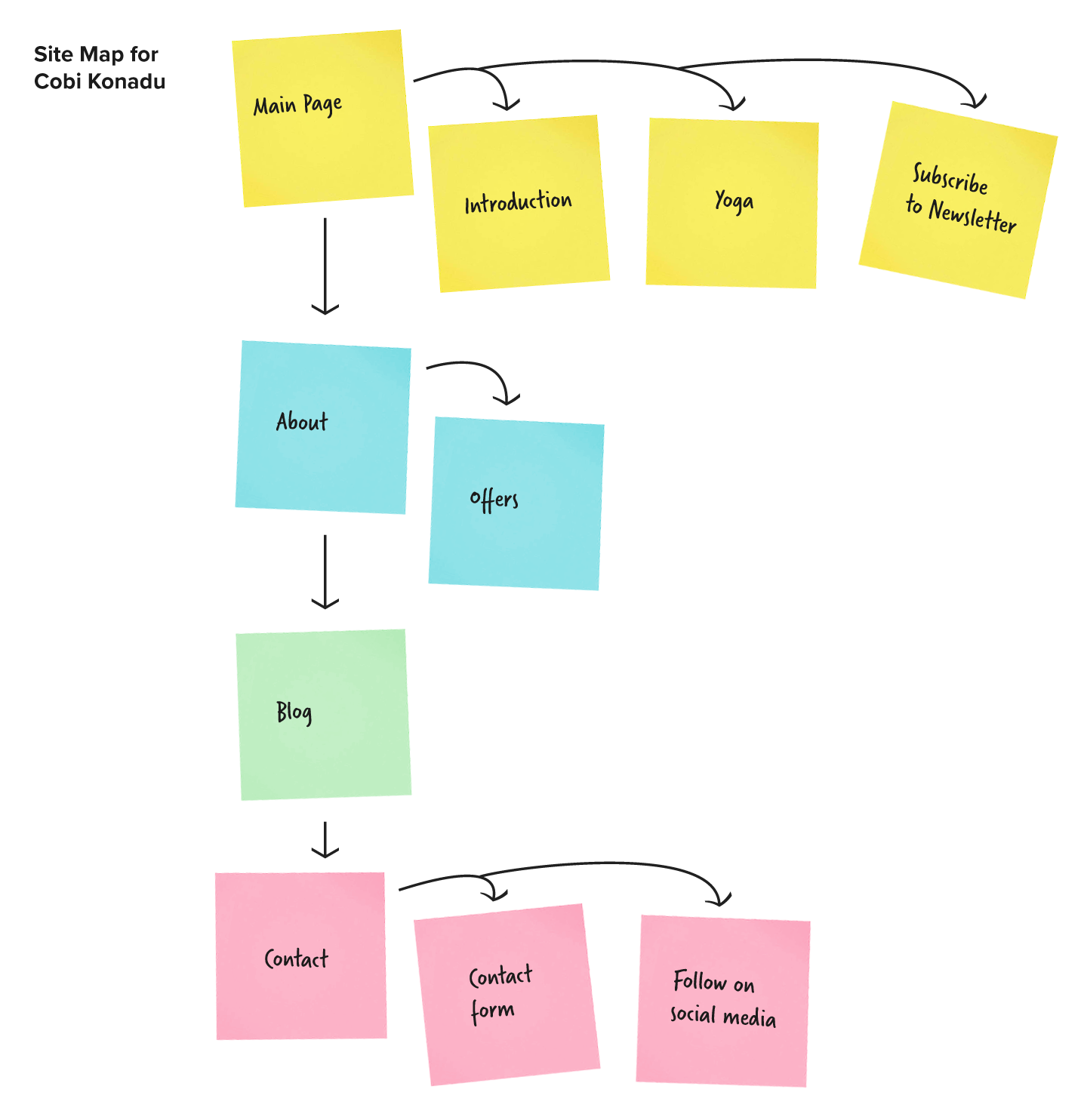 I then created a persona of one of Cobi's potential clients. I often went back to Theresa's profile when designing the website.
Armed with research, a persona, and job stories I went about designing a new experience. Through my research it was clear that people first wanted to get to know Cobi to assess her qualifications, her background, and what she offers before booking an appointment.